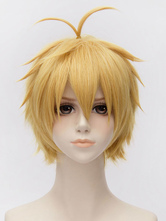 The Seven Deadly Sins Meliodas Cosplay Wig
Tips for writing reviews

Your review should focus on specific features of the product and your experience with it. For video reviews, we recommend that you write a brief introduction.
We welcome your honest opinion about the product--positive or negative.We believe all helpful information can inform our customers' buying decisions.
Contents for what's not allowed

•
•
•
•
•